Cosponsors' Reflection: A Year with the Sadat Family
Submitted on:
Wednesday, March 22, 2023 - 9:47am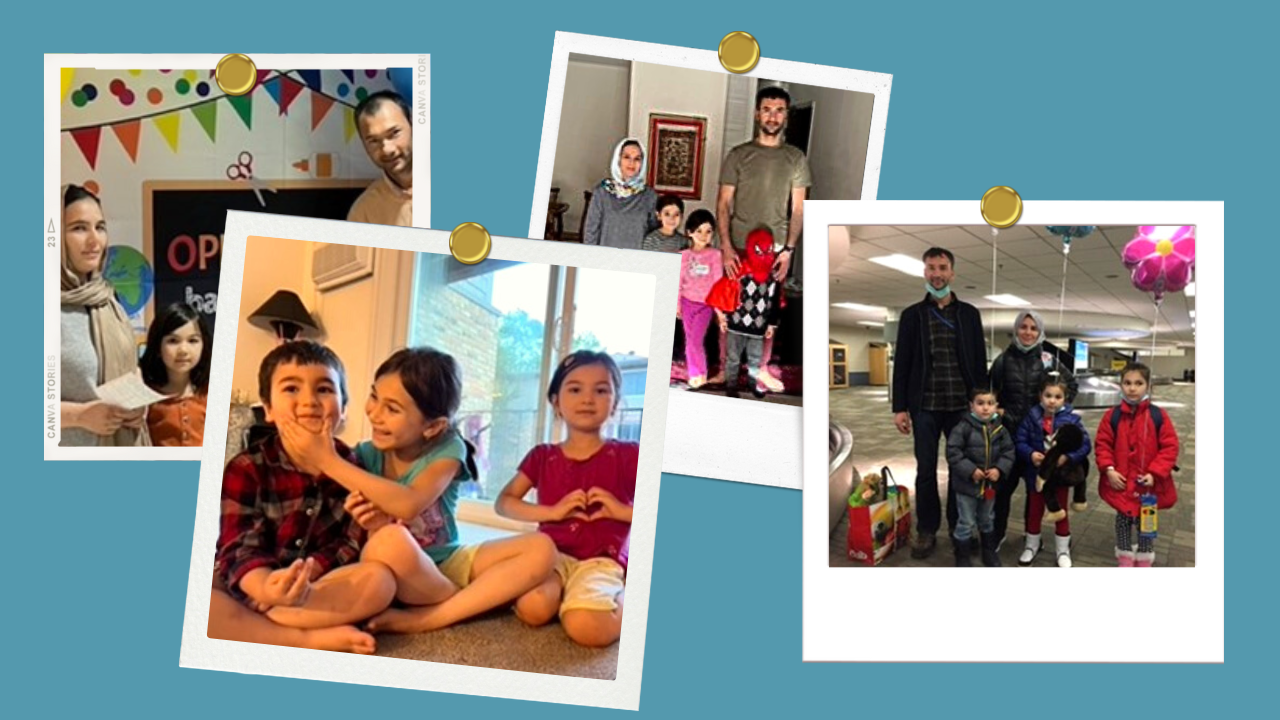 Note: The message below was written by two members of the Sadat Family Welcome Coalition — a group consisting of members of the Eastern Twin Cities Islamic Center, The Minnesota Council of Churches, Boutwell's Landing, and Ascension Episcopal and Trinity Lutheran churches — on the first anniversary of the Sadat family's arrival in the Twin Cities. The Sadats — father (36), mother (32), son (4) and daughters (5 and 7) — fled Afghanistan in September of 2022 and lived at Fort Dix for 5 months before being assigned to Minnesota to start their new lives.
Dear friends,
One year ago, the Sadats moved into their apartment; Spike and I have been reflecting on this milestone, and perhaps many of you have as well.
Little did we know, when we raised our hands and hearts to help an unknown family, what a miraculous journey lay ahead. Little did we know the friends we would make — both inside and outside our coalition — along the way: Strangers who gave time, household goods, money, clothing and food; friends who delivered meals, furniture and needed items; professionals who donated medical, dental and legal services; prayer partners who prayed and prayed; the "Driving Angels" who, with smiles on their faces, drove the father to and from work, and mom and children to parks and other events. These are but a few of the cherished friendships and relationships that have been created along the way.
I'm not sure any of us realized how our lives would change and how the Sadats would become woven into our hearts and lives. As we reflect on this important milestone, it is good to remember a few of the victories:
The family finding an apartment and making it their home.
The kids enrolling in school and finding friends and amazing, empathetic teachers and staff
The father finding employment (and one generous soul donating an E-bike so he could commute to and from work).
The mom making friends, learning to ride the bus (this was huge for her!) so she could attend ELL classes.
The family speaking English during dinner.
Their dental and medical appointments are up to date — a huge accomplishment.
Their lease is signed for another year.
Their path to legal citizenship is well paved thanks to our pro-bono lawyer.
They are becoming part of the Afghan community.
And we, in turn, have been able to learn of their culture and customs, partake in fabulous traditional meals, watch in awe of their gentle parenting style and see what real heroes look like.
Two of the largest obstacles faced by refugees in gaining independence are language and transportation. Each of the Sadats is rapidly becoming fluent in English — listening to them chat in English is heartwarming in every way. Recently, the father passed his written and behind-the-wheel driving tests and, because of a generously donated car, the second hurdle has been cleared. The father, formerly an orthopedic nurse in Afghanistan, continues to set his sights on reentering the medical field in Minnesota. This is just the short list of what has been accomplished and how far the Sadats have come in this short period of time.
The old sayings "many hands make light work" is so very true. For all of you, and the gifts you have shared this year, we are truly grateful. The father sums up his family's gratefulness with notes like this: "May God bless your team, we are grateful for how they have guided me and my family and for all they do for us. May they live 1,000 years."
From Spike and I — and the Sadats — a heartfelt thank you.
Kat and Spike
Sadat Family Welcome Coalition